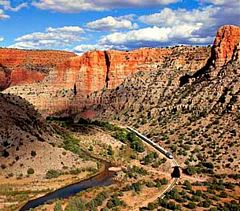 Great Trains & Grand Canyons * October 8 - 13, 2017
PAY BALANCE BEFORE DUE DATE & RECEIVE $100 OFF PER PERSON
Offered By:
Coach USA
Take an unforgettable trip to the Grand Canyon and enjoy two train rides and much more.
Operates:
Oct 8 2017
Tour Length:
6 Days / 5 Nights
Departs From:
Cleveland, OH
Price:
Single Room - $2,879.00
Double Room - $2,229.00
Triple Room - $2,199.00
Tour Description:
Travel with us to see the breathtaking views of the South Rim of the Grand Canyon National Park. Spend 5 days in Sedona, Arizona as you ride the railroads in the area and experience jaw dropping sites.
Tour Highlights: 
Two Rail Journeys:

Grand Canyon Railway
Verde Canyon Railroad

Grand Canyon National Park
Oak Creek Canyon
Black Bart's Steakhouse
Sedona Trolley Tour
Chapel of the Holy Cross
Tlaquepaque & Uptown Sedona
Montezuma Castle National Monument
Jerome
Chuckwagon Supper & Stage Show
Old Town Scottsdale
Package Includes:
Roundtrip Airfare - Cleveland
Sightseeing per Itinerary
Admissions per Itinerary
8 Meals:
Hotel Transfers
Prefessional Tour Director while on trip
Motorcoach Transportation while on trip
Baggage Handling
5 Nights Accommodations -  Poco Diablo Resort or Hilton Sedona Resort, Sedona
Tour Itinerary:
Day 1 - Phoenix - Sedona
❖ Arrive at the Phoenix Airport and meet your Tour Director. Board a deluxe motorcoach and travel north to beautiful Sedona. This upscale resort, retirement and artist community is set amongst the red-hued rocks of Oak Creek Canyon. Your home for the next five nights is a picturesque resort style property in the Sedona area. Tonight enjoy a Welcome Dinner with fellow travelers.
Meal:  (D)
Overnight Sedona
Day 2 - Sedona
❖ Start another great day with a Sedona Trolley Tour featuring the Chapel of the Holy Cross and Airport Mesa for spectacular views of the Sedona area. The trolley guide will give you insight into the various rock formations, indigenous vegetation and history of this remarkable area. Later visit Uptown Sedona and the Spanish-Mexican village of Tlaquepaque to explore these wonderful areas full of art galleries, shopping opportunities and restaurants. Maybe take an optional Guided Jeep Tour into the Sedona backcountry. This evening enjoy Sedona at your own pace.
Meals: (B)
Overnight Sedona
Day 3 - Grand Canyon
❖ Begin an unforgettable day with a drive through amazing Oak Creek Canyon, a sixteen mile long canyon known for its spectacularly colored white, yellow, and red cliffs dotted with pine, cypress and juniper.  Then arrive in Williams to board the Grand Canyon Railway for a nostalgic two-hour train journey that delivers you to the awe-inspiring south Rim of Grand Canyon National Park for free time and lunch on your own.  Six million years in the making the Grand Canyon's dynamic colors and textures inspire reflection at nature's power and beauty.  Later board your motor coach to see the Grand Canyon from other points of interest.  Arrive in Flagstaff for dinner at the lively Black Bart's Steakhouse & Saloon.  After dinner return to Sedona.
Meal: (B, D)
Overnight Sedona
Day 4 - Montezuma Castle - Jerome - Verde Canyon Railroad
❖ This morning visit the Montezuma Castle National Monument which contains ruins of a cliff dwelling built in the 12th and 13th centuries by the Sinagua Indians. Later visit the old mining town of Jerome, once a virtual ghost town, now restored with shops, museums and art galleries. Next travel to Clarkdale to board the Verde Canyon Railroad also known as the Wilderness Train. The spectacular four-hour ride in a First Class Railcar takes you betweem two national forests, past crimson cliffs, over old-fashioned trestles and through a 680-foot tunnel. Early evening return to Sedona.
Meal: (B)
Overnight Sedona
Day 5 - Day at Leisure - Blazin' M Ranch
❖ Today is at leisure in Sedona. Enjoy the wonderful amenities of your resort. Maybe spend the day shopping, sightseeing on your own or on a local golf course. An optional tour will be available. This evening experience a Farewell Dinner at the Blazin' M Ranch where you will enjoy a hearty Chuckwagon Supper and Western Stage Show.
Meals: (B, D)
Overnight Sedona
Day 6 - Sedona - Scottsdale - Flight HOme
❖ This morning travel to Old Town Scottsdale where Western storefronts recreate an aura of the past. Later arrive at the Phoenix Airport for your flight home filled with unforgettable memories of your "Great Train & Grand Canyon Tour".
Meal: (B)
Important Notes:
****The balance for all flight trips are due 90 days before departure, at which time it will become non-refundable.  Any bookings made within the last 90 days are subject to availability and will require full payment at the time of booking.****
Special Note:  Pay your balance in full prior to the due date and receive $100.00 off per person - WOW!!
All Fly Trips include airfare from Cleveland  Airport, transfers and air taxes and fess (subject to increase until paid in full).  You will drive yourself to the airport.  Trip insurance is available, and will be sent to you upon making your reservation for your individual consideration.
Terms and Conditions:
PAYMENT:
For your convenience, we accept Visa, MasterCard and Discover if you are making your reservation by phone, or you can send a check to our office (please call first to check availability). If you are booking online, payment must be made in full.
REFUNDS:
Up to 45 days prior to departure date, a full refund will be made. *Air and cruise tours, and some longer tours, may be different—be sure to ask for details when making your reservation. Tours including tickets also generally have earlier non-refundable dates. There are no refunds for cancellations made within 45 days prior to your departure date. However, we will do our best to recover as much as we can, but cannot guarantee anything. There will be no refund, for any reason, for a "no-show" on the day of the tour. A "Refund Protection Plan" is available at our office at a minimal cost. This insures you a full refund in case of a death or illness in the immediate family up to 24 hours before the tour departs. (It does require a doctor's written note or copy of death notice.) On longer tours, we have a special insurance plan available if you are interested, and it will be sent to you with your confirmation. We encourage you to take advantage of these protection plans. The Refund Protection Plan does not apply to Day Trips, nor are there any refunds for Day Trips, with a few exceptions.
CANCELED TOURS:
Gad-About Tours Inc. reserves the right to cancel any tour that has not reached a minimum number of reservations. We reserve the right to change tour prices and itinerary. Tours are prepared up to a year in advance and may be impacted by circumstances that arise which are beyond our control. We reserve the right to cancel or refuse service to anyone, in our sole discretion. We always avoid changes and cancellations if at all possible, as we realize the inconvenience to you, our valued customer.
TRANSPORTATION:
All of our tours are by late-model, deluxe wide-body motorcoach. They are equipped with air-conditioning, reclining seats, public address system, VCR, and emergency restrooms. Our intent is for all overnight tours to be professionally escorted for your convenience. Upon occasion, in order to avoid canceling a trip with a low passenger count, our driver may serve both positions of driver and escort, and all are professionally trained to do so. All Fly Trips include airfare from Cleveland Airport , transfers and air taxes and fess (subject to increase until paid in full). You will drive yourself to the airport. Trip insurance is available, and will be sent to you upon making your reservation for your individual consideration.
LODGING:
Your lodging is included on all overnight tours. All hotels are AAA rated. We never use second-rate hotels, restaurants, or activities on any tour, to the best of our ability to make that determination. Payment of telephone calls, room service, and other incidentals at places of lodging are the responsibility of the customer.
LUGGAGE:
One suitcase per person is included in the price of your tour. You are also permitted a carry-on, which is your responsibility. Additional luggage may be transported at the cost of $5.00 per bag, per day. It is wise to travel light. Luggage tags are provided and required for hotel identification, and are sent with the final letter with the phone numbers of your hotels.
TAXES AND GRATUITIES:
All taxes and gratuities for included meals and activities are included, unless otherwise mentioned by the Escort. Driver and Escort gratuities are not included in the price of the tour, and are optional. However, the suggested gratuity as posted by the American Bus Assoc. for a job well done is $2.00-$2.50 per person/per day for the tour escort, and $2.00-$2.50 per person/per day for the driver. We request that you express this on an individual basis, and let the quality of service received be your guide.
SEATING:
On all overnight tours, we use a daily seat rotation. The first day of a trip, we allow you to choose your seat when you get on, and rotate from there. We feel this is fair to all involved. If the coach is not full, a less formal rotation may be used at escort's discretion.
SMOKING:
We make regular stops for restrooms and for the convenience of smokers; however, we have a NO SMOKING policy aboard all coaches. This policy also applies to e-cigarettes.
RESPONSIBILITY:
Gad-About Tours, Inc. is bonded, insured, and registered with the ICC, number MC 198451. We act only as agents and are not responsible to any person for any loss of time or money due to a change or delay beyond our control. Nor are we responsible for non-performance by those we have contracted with. Any claims against Gad-About Tours Inc. must be made, in writing, within 30 days of the trip.
ADA NOTICE:
Any person or group which requires an ADA accessible bus is requested to inform us at the time of reservation, and must notify us in writing no later than 48 hours prior to the charter's departure.
Charges will appear as "CoachUSA/Megabus" on your credit card statement. We are a United States merchant and all card payments are processed at our corporate office located at 160 S. Route 17 North, Paramus, NJ.