Benefits of Charter Bus Church Transportation
Renting a charter bus for church group transportation brings lots of benefits. Whether you're going on a short day trip to a neighboring church or on a multi-day retreat, Coach USA buses deliver a premium travel experience.
We offer flexible pickup options to make traveling more convenient for you. Many Coach USA buses have accessibility features for wheelchairs and other needs upon request.
Take the stress out of planning church transportation and let the professionals at Coach USA handle the details. One of the best parts of charter bus transportation is how easy it is to stay coordinated. Groups can socialize, learn and enjoy time together when everyone is traveling on the same bus.
Travel is even better with the comfortable, spacey seating on Coach USA buses. Guests can relax, nap, enjoy entertainment on the bus's screens or simply enjoy the view. With plenty of room for elbows and legs, you won't have to sacrifice personal space.
Our buses feature climate control, power outlets, wifi and reclining seats that are perfect for resting after an event. Clean bathrooms are also available for your group's convenience.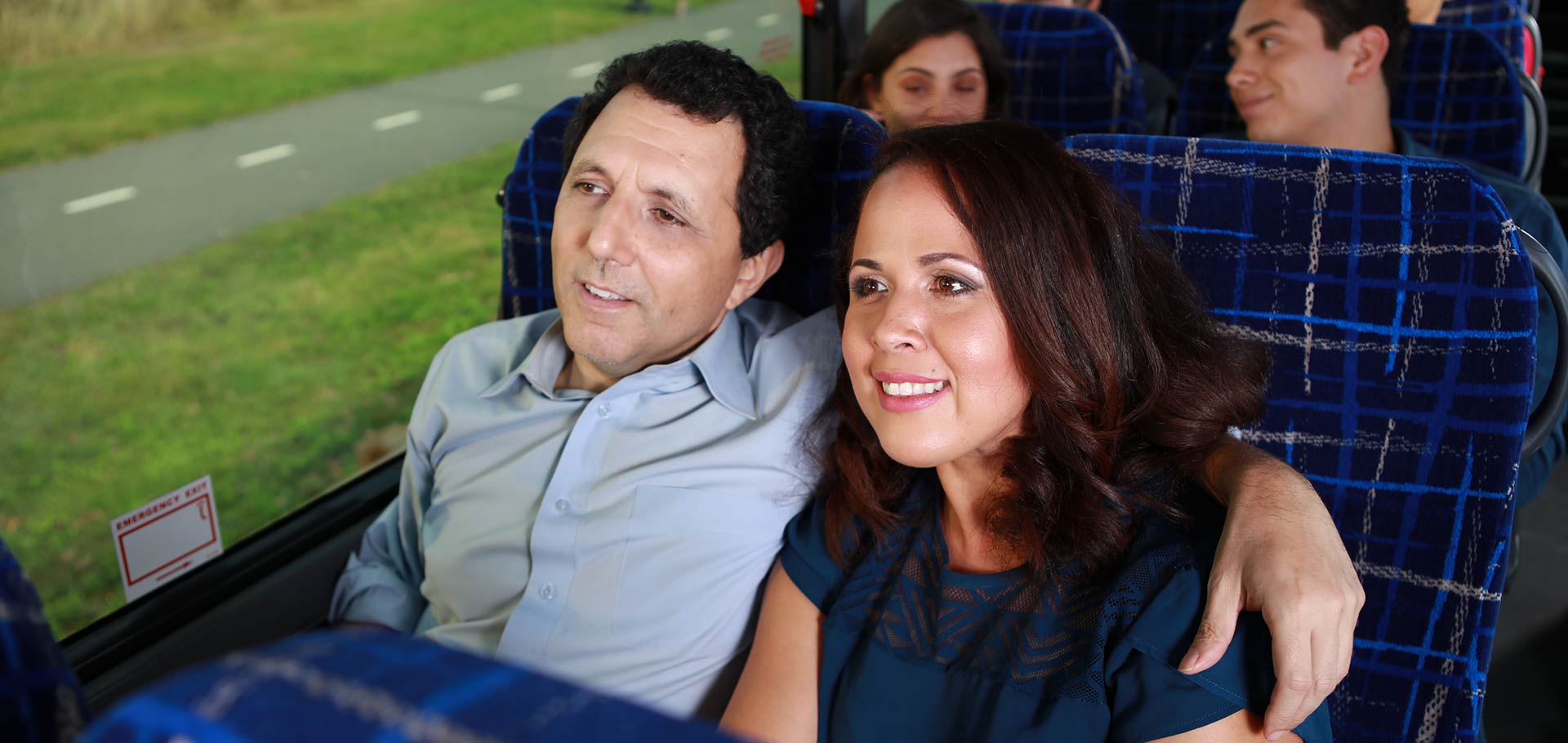 Popular Church Group Bus Trips
Coach USA buses operate nationwide to give you convenient access to many of the most popular destinations for church groups:
Retreats
Youth trips
Conferences
Speakers and talks
Classes
Church visits
Whatever your destination, you can easily book single-day travel or a longer trip with a bus from Coach USA.
Safe and Convenient Bus Rentals for Church Groups
When you book a bus with Coach USA, you won't be alone in planning transportation for your church group. Our friendly support team is available to answer your questions and address your concerns whenever you need. Simply tell us your preferences and any special accommodations necessary for your group. We'll handle the details to give your church group the best travel experience possible.
With safety and convenience as our top priorities, you can expect professionalism and care during every part of your trip. Coach USA drivers are CDL-licensed and prepared to handle varying road conditions efficiently and safely. Our skilled drivers are friendly and always available during your church bus rental to make changes to your group's itinerary or adjust other details.
In addition, you'll have access to our helpful support representatives from the moment you book until your group returns from the event or destination. Staying coordinated, on schedule and stress-free is easy with a charter bus rental from Coach USA.
Call Today to Book Your Church Bus Trip
A bus trip for your church group is a great way to spend quality time together, enjoy new experiences and explore shared interests. Coach USA charter church bus rentals include modern amenities and comfortable, spacey seats. We can accommodate both small and large groups on short visits or extended stays. Safety, convenience and accessibility make our buses the best way to travel on your next group trip. Call the transportation experts at Coach USA today to start planning a fun, memorable bus trip for your church group.
Not what you're looking for? Try our other Event Charter Services
Corporate Event Charter Service
Family Reunion Charter Service
School and College charter Service
Sports Team Service