Corporate Charter Bus Rentals

for Business Travel
Coach USA is the best transportation for events of all types and sizes. From small, internal get-togethers to large shows or seminars, you can provide safe, quality service for everyone in attendance.
Your team might be traveling to see a talk by an industry expert. Or, you might be celebrating with a company picnic or a night out at a sporting event. Outdoor activities, such as hiking, can also be great bonding experiences for the whole company.
Is a group from your company attending or working at a trade show? Coach USA makes bus travel convenient. Our fleet has plenty of storage space for all of your luggage. Choose transportation that fits your group's size and needs—we offer a variety of options to best suit your travel preferences.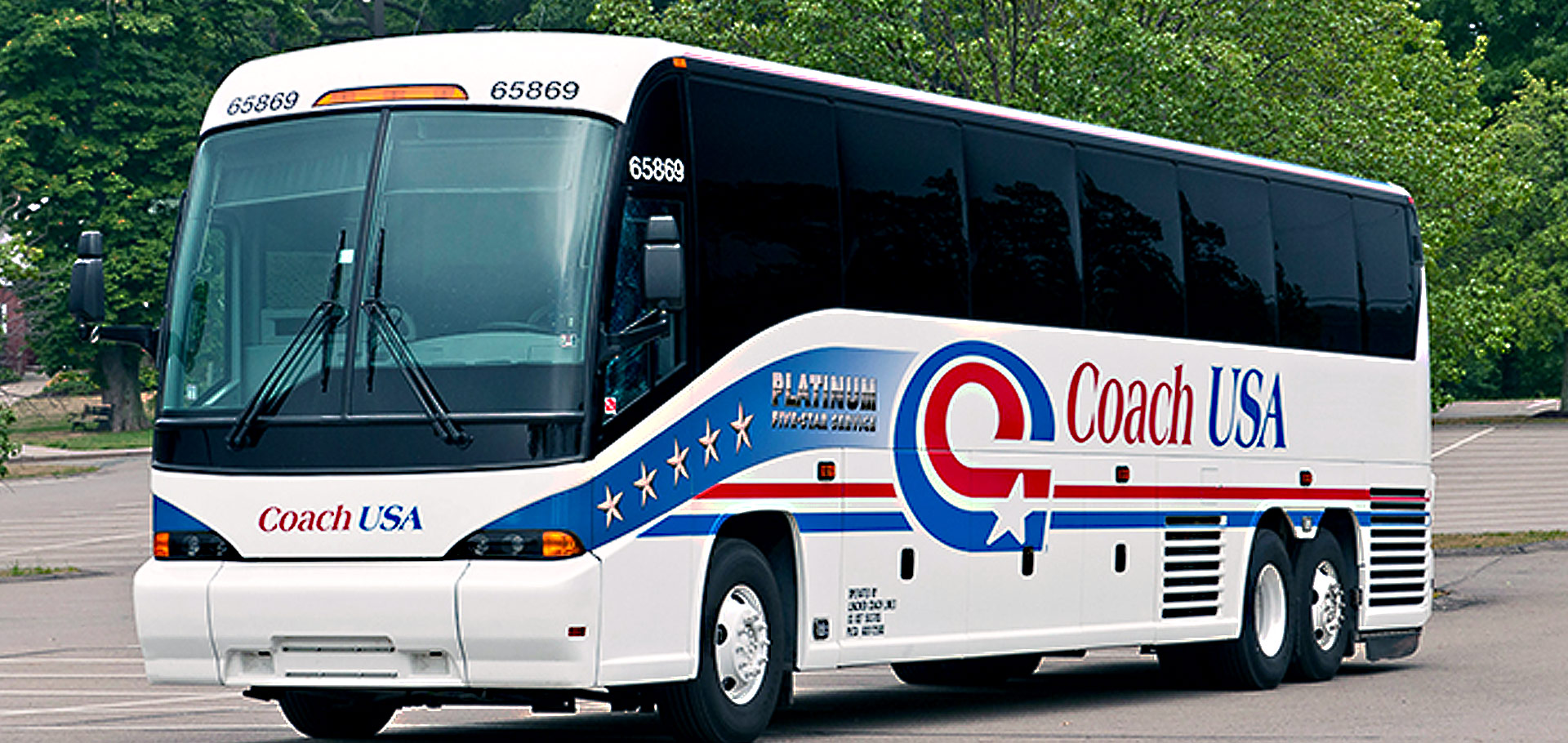 Renting

Corporate Shuttle

Buses
Whether your company outing includes ten people heading to dinner or a hundred employees attending a conference, Coach USA is the best option for easy, comfortable charter bus rentals.
Choose professional transportation to take your group to a seminar on new technology. Celebrate a successful year with a private charter bus that takes your employees to and from the company holiday party. Enjoy some time outside of the office with your coworkers at a team dinner. You can do all of this and more with a corporate charter bus from Coach USA.
If your company is planning to host a conference or organizing a large event, you can ensure that your event transportation runs smoothly with the helpful team at Coach USA. Our representatives will work with you and your group to plan easy, organized bus transportation for everyone involved.
Coach USA is a nationally trusted transportation provider. We operate in dozens of locations, including New York City, Los Angeles, Chicago and many more.
Better

Corporate Charter

Buses
Traveling as a group is great for the team. Rather than driving in separate cars or taxis, everyone can ride on the same bus and travel on the same schedule. Staying coordinated with a private charter bus is an effective way to boost productivity and nurture work relationships.
You can take last-minute work with you, using your time on our buses to finish up a project or brainstorm ideas. Of course, the comfortable seats are perfect for relaxing, too. Rest yourself before and after a work event and get to know your coworkers outside of the office.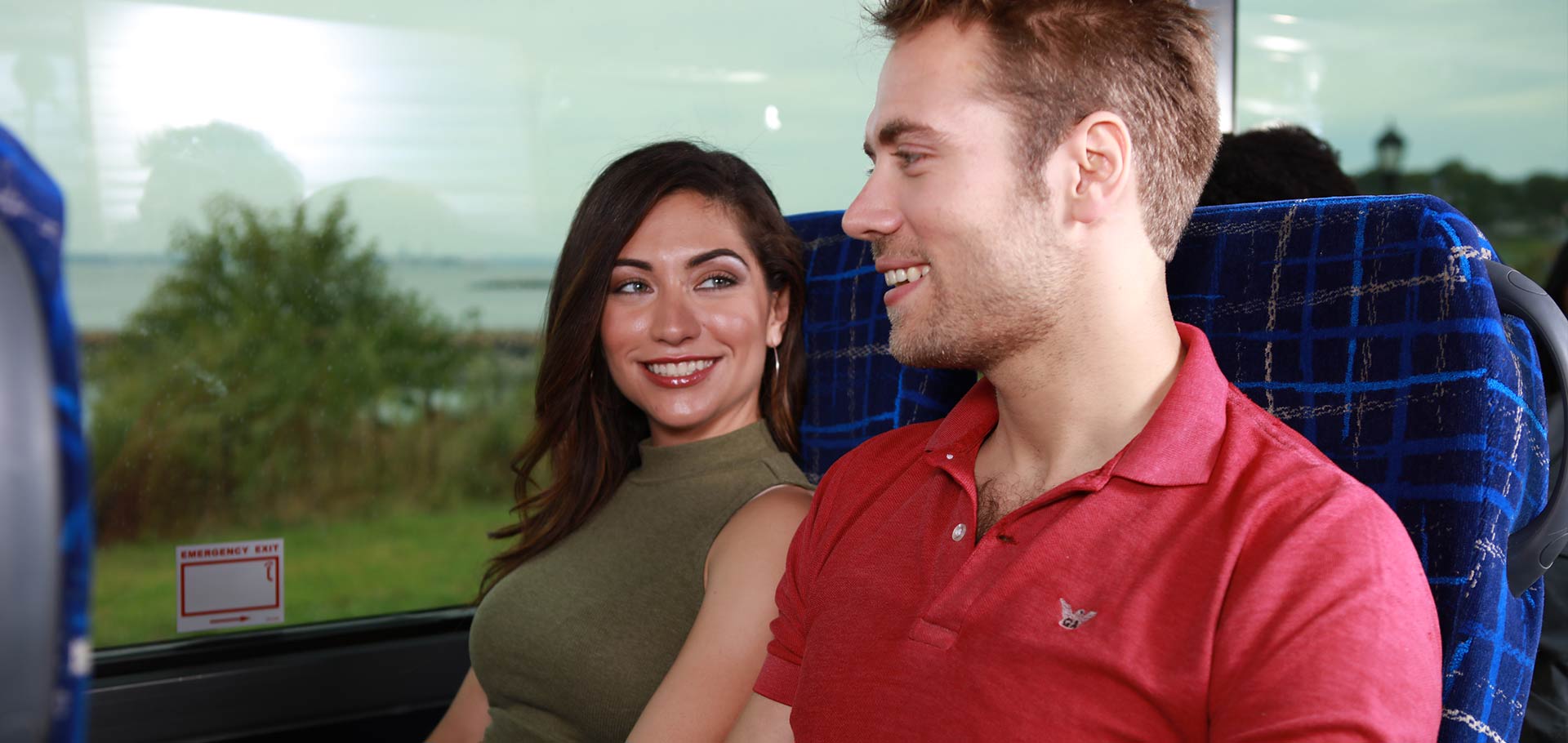 Charter bus transportation empowers you to customize the itinerary, amenities and experience. It can also save you money on long trips. Airfare is expensive and flying with groups means renting a number of cars or taxis once you've landed.
If your corporate event takes place in a busy city, taxis and public transportation are less than ideal for getting your group—large or small—to the event. A private charter bus keeps everyone together and coordinated.
Traveling to your corporate event on a Coach USA bus solves these problems and removes the high cost of plane tickets. We'll take you directly from departure to destination with only the stops you specify along the way. And our drivers are skilled at maneuvering through cities to shuttle your group to its destination easily.
It's easier to ensure a safe trip when everyone travels together. With charter buses from Coach USA, everyone in your group can arrive at the destination on time and at the same time. No one has to worry about navigating through a city or accidentally choosing the route with more traffic.
Let our professional drivers handle the roads and directions while you and your group enjoy a comfortable ride. We follow your itinerary—we're always ready to make changes when you need them and to anticipate problems so that your bus trip runs smoothly.
Our drivers are available for easy communication at all times, so you can coordinate with them about last-minute details or surprises. Being prepared for unexpected changes lets us adjust quickly to keep you on schedule.
Corporate Charter Bus

Features and Amenities
Coach USA offers a selection of modern, safe and comfortable buses to fit the needs of your corporate event. When you rent with us, you're working with a team that's dedicated to providing the best transportation service available.
You'll have access to experienced, CDL-licensed drivers, a safe and reliable fleet of buses with modern amenities and a team of friendly support representatives ready to help you plan the most efficient corporate event transportation.
Coach USA buses feature large, reclining seats with plenty of legroom to make it easy to enjoy long trips. Prepare for the event, relax or nap in comfort as our skilled drivers take you to your destination on time.
Climate control is customizable to the preferences of your team. You can plug in your own music or listen to a podcast or recorded talk on the way to the event. Other entertainment is also available onboard, including TVs and DVD players.
Bathrooms are located on our buses for your group's convenience. Coach USA buses also feature large storage compartments for your corporate group's luggage and supplies.
Call Today to Book Your

Corporate Charter Bus
Planning to host or attend a corporate event with a group can be challenging. But with Coach USA, arranging corporate charter transportation is easy. With a helpful support team and skilled, professional drivers, we'll make sure your charter bus rentals and event transportation run smoothly.
Not what you're looking for? Try our other Event Charter

Services