Book a Convenient

Family Trip Bus Rental
Coach USA bus rentals make it easy to plan affordable, convenient travel for your whole group. There are lots of reasons to use a charter bus for your family reunion.
Charter buses give everyone the luxury of prearranged transportation. Plus, a bus rental will keep your whole group together so you can spend as much time with each other as possible. It's especially great for long trips when everyone can talk, play games, catch up and enjoy more time together. A Coach USA bus rental can save your group money on long trips by avoiding airfare. Our charter buses come with a team of dedicated support representatives to help make your reunion perfect.
Rental Buses

to Popular

Family Reunion

Destinations
Our buses are equipped for long trips and short ones. Whether you're visiting a distant landmark or heading out for a night at the casino, Coach USA is the best option for group travel.
Choose a pickup location and we'll be there early, ready to take you and your family group to every destination you have planned. We make travel convenient so your family adventure can start on the bus. No one has to worry about driving, directions, parking or traffic—Coach USA professional drivers will handle everything for you.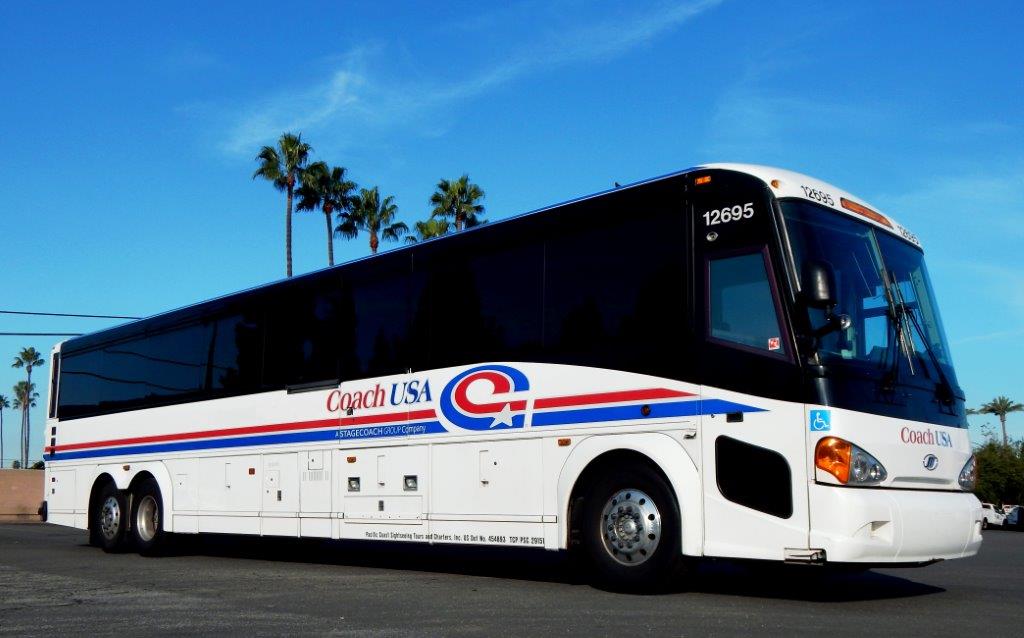 A private charter bus means less work and lower costs than arranging flights, taxis or other transportation. One of the biggest advantages of charter bus travel is keeping your whole group coordinated. With a family reunion rental, you'll feel relieved knowing that everyone is on the same schedule. Our CDL-licensed drivers are highly experienced. They'll navigate the roads while your group enjoys the comfortable ride.
Coach USA has a variety of options to fit the needs of large and small groups. We can shuttle your family to dinner at a restaurant or on a day trip to an amusement park. Or, we can take you to your weekend at the beach, resort or other destination.
A charter rental is also a great way to take your family to a city you've always wanted to visit. Let your professional driver manage the city traffic and drop you off exactly where you want to go. Whatever your family has planned for a reunion, a rental from Coach USA is the best way to get there.
If some of your group has to fly, Coach USA also provides fast, convenient private airport shuttles to and from the airport.
Things to Consider for

Family Trip Bus

Travel
With a team of knowledgeable service representatives working with you, you can plan the perfect family reunion with less work. As you're speaking with our professionals to arrange transportation, there are a few things to consider:
How many people will be traveling on the

bus

?

Will there be young children or seniors in your group?

What kinds of entertainment options would you like?

Are you planning multiple stops along the way?

Who will be the

bus

driver's primary contact?
Thinking about these questions in advance will keep every step of the process simple and ensure that our team knows exactly what you want in a charter rental.
Family Bus Rental

Features and Amenities
Your family will enjoy the best modern amenities on Coach USA charter buses. Premium reclining seats let you relax in comfort. There's lots of arm and leg room for everyone, whether you're catching up in conversation, admiring the view through the windows or taking a nap. Keep the temperature right where you want it with climate control and personal fans above each seat. Restrooms are also available for your convenience.
Wi-Fi and power outlets keep your group connected while you travel. The kids can play all the games they want and stay charged. Inputs are available so you can bring your own music. Our buses also offer TV screens to play movies that everyone will love.
Friendly Service for

Family Reunion Bus Trips
With Coach USA, you're not planning your family reunion alone. Our team of friendly representatives is available whenever you need. We handle the details to make group transportation simple. Just tell us your preferences, give us the details about your group and let us help you create the perfect itinerary.
We'll answer any questions and address any concerns you might have. Our team is dedicated to providing friendly, helpful service every step of the way.
Coach USA provides the best transportation options for your family reunion! Charter bus rentals for family groups of all sizes include modern amenities and comfortable seats. Plan fun, convenient travel for everyone at your reunion with the experts at Coach USA.
Not what you're looking for? Try our other Event Charter Services
Corporate Event Charter Service

School and College Charter Service